Featured Products
Learn from Trust Divorce Advisors!
·      Contemplating Divorce or wondering what a Divorce in Texas with children
and/or marital homes means for you?
·      Speakers include a Family Law Attorney, Certified Divorce Financial Analyst,
Divorce Real Estate Specialist, Mortgage Lender, and more.
·      Learn about the different types of Divorce in Texas, what financial questions you should be asking.
·  Learn your possession options with children, calculate child support, and learn who gets what
when it comes to separate & community property.
·      Investing in yourself today could save you thousands of dollars, countless hours of research,
and mental anguish in the future.
 Sign up today,
DON'T DO Divorce ALONE!


Learn from Trust Divorce Advisors!
As leaders of the Houston Chapter of the National Association of Divorce Professionals, we help you Learn the Facts and Remove the Fear, so you can make informed decisions throughout the divorce process.
Whether you're contemplating Divorce, in the discovery stage, or looking to gain knowledge about Divorce, don't miss this information-packed seminar.
REGISTER for our live, in-person seminar: Divorce Guide, A Road Map to New Beginnings. Lunch will be served.
Also check out our Youtube Channel for videos on Divorce and the martial home.
Don't Do Divorce Alone - Learn The Facts, Remove the Fear!
See our full website at:

"Divorce Road Map to New Beginnings is truly like no other."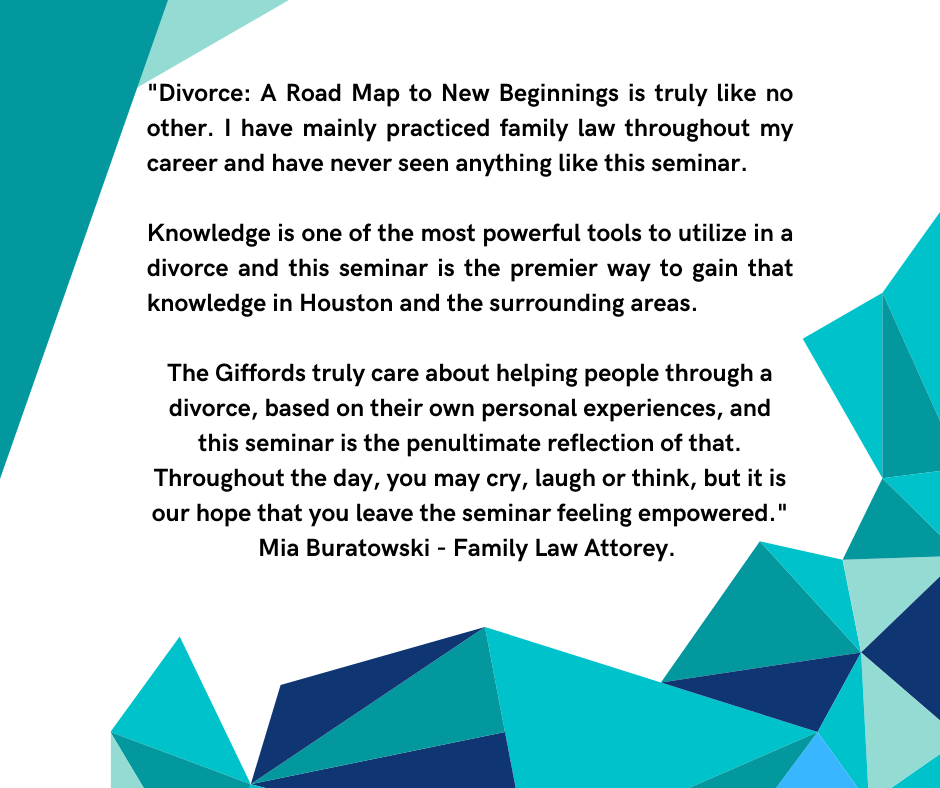 Check your inbox to confirm your subscription